WiseFool Debuts New Website and Brings to Market Expert Insights and Tools Dedicated to Shaping the New Workforce
Company Enables Organizations to Create and Support Engaged Work Ecosystem for Employees, Aiming to Develop the WiseFool Workforce Equipped with Tools Necessary for Success in Today's Economy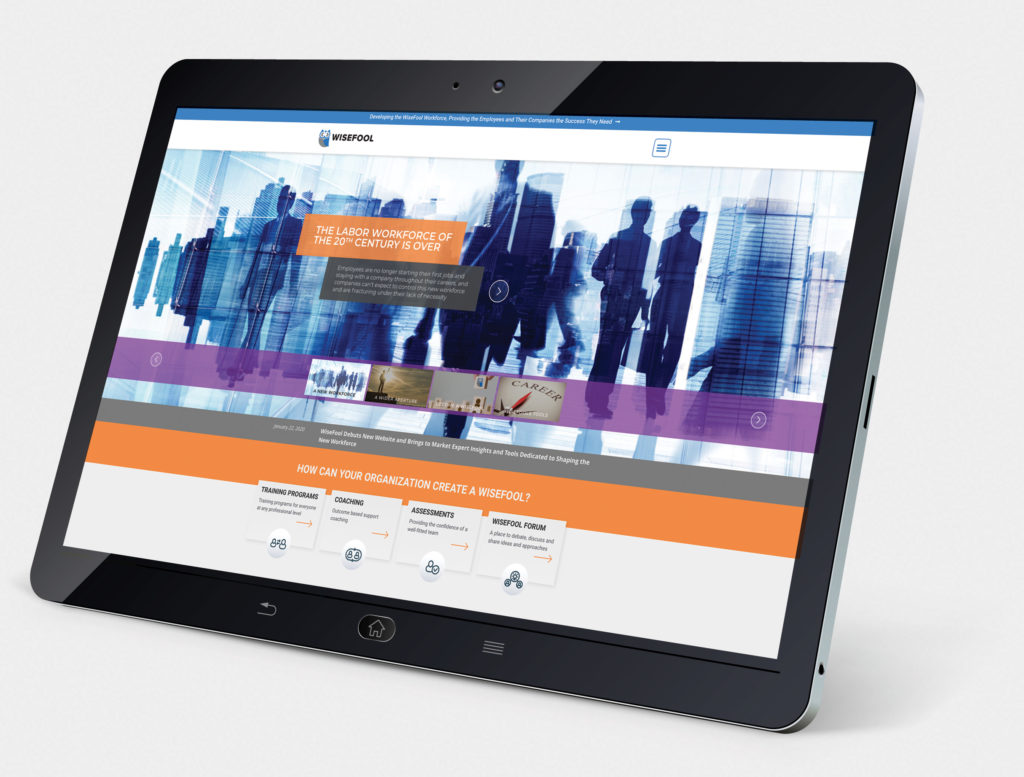 Minneapolis, Minnesota – January 2020–  WiseFool, a Minnesota-based consulting firm specializing in maximizing the potential of people, business processes, and human resource programs to enable the new workforce and companies to succeed in today's evolving economy, launched its new website, www.wise-fool.com.
The company's new online presence showcases its unique approach to employee training and development, business transformation, and organizational effectiveness, anchored in harnessing the power of WiseFools, the new workforce who are equipped with the right tools necessary for success in the new economy.
"We are keenly aware that the labor workforce of the 20thcentury is over – no longer are employees starting their first jobs and staying with that company throughout their careers," explains Martin Kuehne, WiseFool Senior Advisory Leader. "In its place is a new workforce – one that is characterized by the prevalence of short-term contracts and freelance work."
With deep experience in the consulting and training industries, working with more than fifty Fortune 500 companies, the WiseFool team has concluded that 'big' companies that once drove the U.S. economy are no longer puppeteers simply pulling the strings of their workforce and are thusly fracturing under their lack of necessity.
WiseFool Co-Founder and CEO Rachelle Argir stresses that "there is a clear need for bringing senior executives out of their office and the workforce into the board room," expounding that "no organization works because senior executives sit in their office and pull levers all day – people are attached to those levers most of the time, and they only work effectively when they feel that their potential and interests are in harmony with those levers."
WiseFool was established a year ago to combat these new labor trends. The firms provides client organizations across industries with a unique "outside-in" approach to helping leadership clarify and quantify their goals, align the systems that make their organizations work, and unlock the latent potential of their employees – all in an effort to enable leaders to better understand their workforce and employees to better understand their companies for a mutual benefit and success in the 'gig' economy.
"Ultimately, our goal for the workforce of today is simple – in using the tools WiseFool has developed, we foresee an army of WiseFools confident in their career trajectory and excited about their place within an organization. These WiseFools will understand themselves and their goals, leading to the success they need to stay the course," adds Kuehne.
WiseFool's three main areas of focus in supporting the development of WiseFools as effective members of the workforce are:
Companies waste billions of dollars on ineffective training, missing improved organizational effectiveness, and performance. We have developed customized trainings that are focused on individual employee WiseFool skill development, leadership team coaching, and sales and marketing best practices for selling to the new workforce.
WiseFool's coaching approach is assessment- and metric-based with a focus on the self, other and environment model for learning. We deliver ideal outcomes for our clients by taking what they understand about their selves and adapting this knowledge to better affect those in their work environment. Getting 360-degree feedback from the people above, aside, and below our clients is key.
We understand that a company needs to be equally confident in both the people they hire and the people they have that are already on staff. Selection is vital when developing a workforce, and we ensure a company understands who the right people are and how they fit. To put it simply, turnover is incredibly expensive – and with our tools in hand, this can be avoided to the mutual benefit of the company and the employee.
"We have seen tremendous growth and interest in WiseFool's novel approach over the past year and have elected to put our mark on the industry by launching a website that represents who we are and shows how WiseFool can be the most trusted source for businesses looking to best manage the employees within their organization," concludes Argir. "This is the just the beginning of other big things to come and we are elated to have this online platform to tell our story."
The new website also incorporates the WiseFool Forum which features the voices of experienced and diverse WiseFools across industries, providing a place to debate, discuss, and share thoughts, ideas, and approaches.
Visitors are encouraged to explore the new website at www.wise-fool.com.